Ferrari Roadside Assistance 
The Ferrari Roadside Assistance service is offered by the Prancing Horse to clients wishing to enjoy their Ferrari in complete confidence and peace of mind, regardless of where they choose to venture. The service can be used 24 hours a day, 365 days a year during the new car's warranty and during the extended warranty. 
Ferrari owners have road assistance available in case their car is immobilized, due to one of the following reasons:
Breakdown

A

ccident 

Partial or Attempted Theft 
Flat Tire 
Lack of Fuel 
Dead Battery 
Loss and/or Broken Keys 
or Re-Found After Theft

 
Thanks to this service, the client can request a road assistance car, which can tow their vehicle to the closest authorized Ferrari garage, or carry out small emergency repairs in the following cases:
Filling up Tank, Lubricants, Cooling Liquid

Flat Tire Repair should the Vehicle have one


Jump Start in Case of Dead Battery
The Ferrari Roadside Assistance Program is Now Available 
for ALL Out-of-Warranty Vehicles.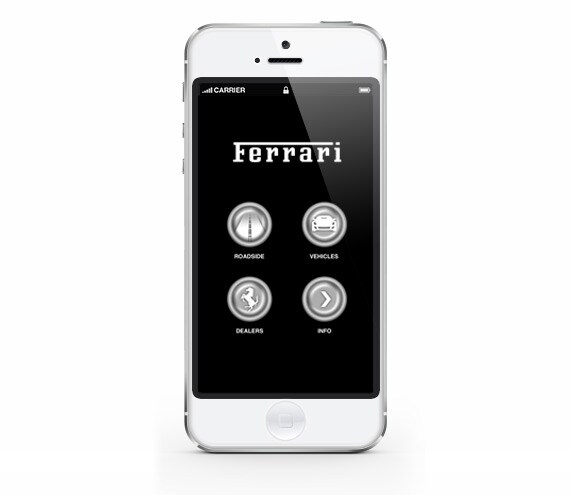 Clients can enroll easily with the new Ferrari Roadside Assistance app for iPhone and Android Phones. They'll get one free year of the program when they download the app and register their vehicle. With the program, clients who are in need of Roadside Assistance are covered with free towing, up to 100 miles, to the closest authorized Ferrari dealer from the disablement location. 
Enrollment is easy - just download the new Ferrari Roadside Assistance app for iPhone and Android phones by searching for "Ferrari Roadside Assistance." 
For clients who already have Roadside Assistance coverage, the app is a convenient way to quickly get in touch or access other features like Ferrari Concierge. 
Making Roadside Assistance available to out-of-warranty clients, providing simple enrollment through the app, and offering a free year of Roadside Assistance, all adds up to looking out for our Ferrari family.
*Program enrollment provides one (1) year of complimentary Roadside Assistance to any out-of-warranty Ferrari vehicles, regardless of age or model year. Complimentary towing is available up to 100 miles to the nearest authorized Ferrari dealership from the disablement location. Vehicles under the Ferrari "Power" program are not eligible for this offer.