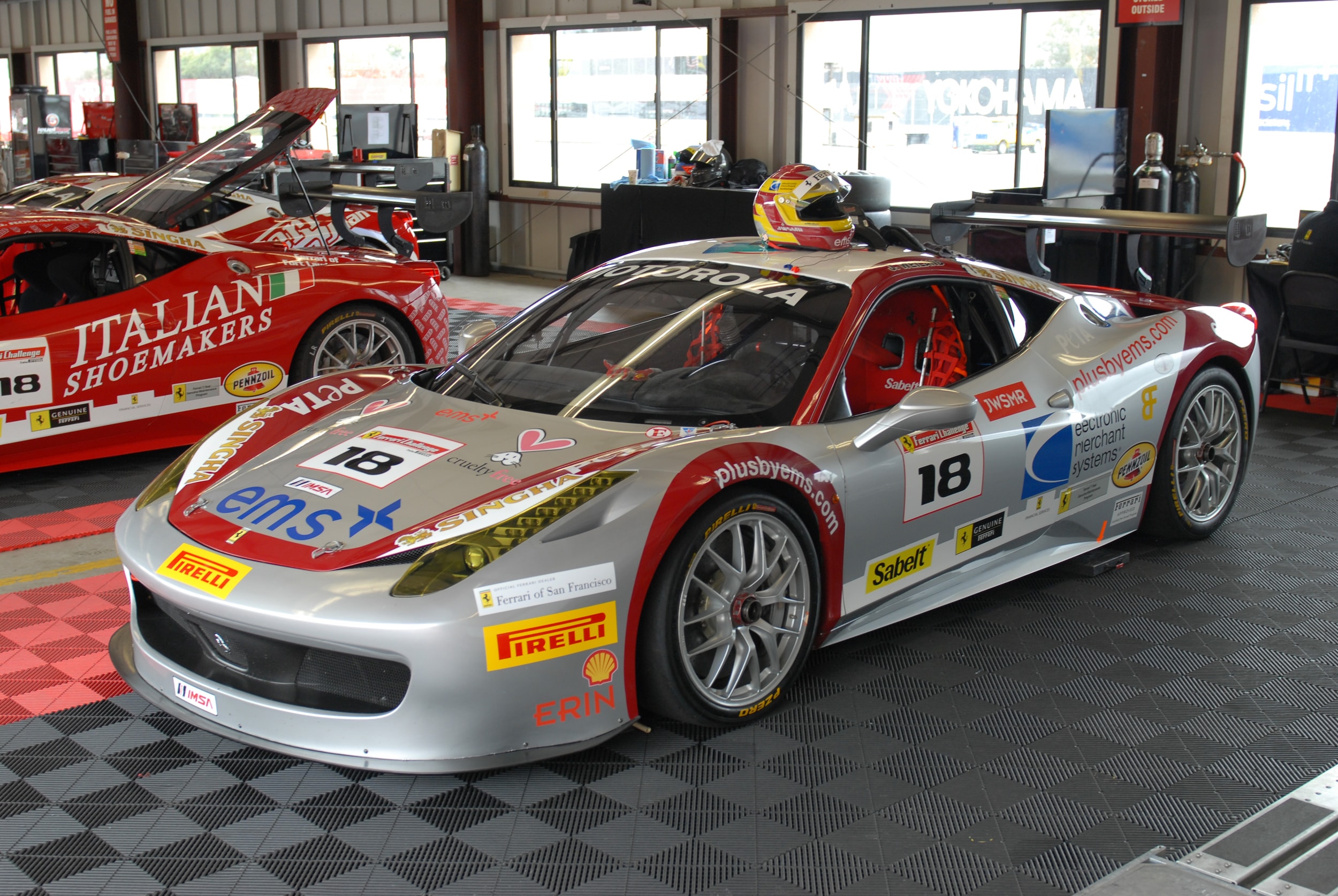 Race the Ferrari Challenge with Ferrari of San Francisco
The 2014 race season marks another season for one of the longest running teams in Ferrari Challenge history. Our longstanding success as a prominent Ferrari dealer in the San Francisco area, has allowed us to secure the services of the some of the most successful, skilled and Knowledgeable staff in the world of the Ferrari Challenge.
With over thirty years of combined experience in the Ferrari Challenge, R3 Motorsports is able to provide its drivers with a foundation for support that is secondto none. Leading the organization is Team Principle and former champion driver Ryan
Negri, the Team's Director of Race Operations and Rudy Courtade, the Team's Chief Technical Officer.
We are the only team in US challenge history that can claim to have every driver that has raced for us achieve at least one podium finish. We also have won championships in both the 360 and 430 Challenge Championships and we finished second last year in the 458 Trofeo Pirelli Championship. 
In regards to hospitality, we are experts in this field as well. We have a full staff for this and have handled many high level clients from  CEO's of major corporations  , several Silicon Valley executives and clients with family and personal needs. We do offer everything from travel arrangement , ground transportation and custom programs tailored to the clients needs… We have been doing this for 20 years , we are very familiar with all of the towns that we race in and are able to accommodate and make sure that every member of the drivers team is happy.
As far as coaching is concerned , we have a full network of Challenge Championship coaches available. We also have local track experts that work with us at all of the tracks we race at. This is extremely helpful in order to get the best advice possible. We provide our drivers with full race engineers for car set up and Data analysis , this is for our Race weekends and  testing as well , we are one of the few teams that offer this.
Our team has the flexibility and capability to organize additional test days during the season or winter. The team is also ready to offer right now a Introduction Package with the possibility of renting a Challenge car for testing.
The R3 Management Team: Ryan Negri and Rudy Courtade:
Ryan & Rudy have been business partners for twenty years. At an early age Ryan began racing karts. As a result of his success within the karting discipline he contemplated starting his first business. Having met Rudy through racing, the two drivers forged a partnership called KRC Racing. KRC provided a stress free, arrive & drive environment for serious Kart racers.
As KRC grew and developed they attracted new clients. One of these clients, Ferrari of Beverly Hills was interested in having Ryan & Rudy provide race support for the Ferrari owners that were interested in racing in the Ferrari Challenge series. Thus began R3 Motorsports, and for 10 consecutive years, R3 has been the exclusive race support and logistics provider for several Ferrari dealership before Ferrari of San Francisco.
But there is more to R3 than the Ferrari Challenge. Having had clients who are based in Korea, Europe and Latin America has provided R3 with a wealth of experience in multitude of series such as the Italian GT and GT3 series as well as Korean GTC. In addition, R3 participated in the Grand AM Motorola Cup series. Having consistentlyProvided our clients with a level of service and dependability that is second to none, R3 has enjoyed a lengthy relationship with all of its clients.
This is due in no small part to Rudy Courtade, Chief Technical Officer of R3, who is responsible for getting the cars to the start line and keeping them going in the right direction. Having been
A "former" United States Marine, (we've been informed that there is no such thing as a "former Marine"), Rudy can call upon his past experiences and muster the troops when the situation calls for it, for example: pulling an all-nighter to get a wayward car back on the track.
Ryan Negri, President of R3, is responsible for keeping the Team focused and managing our drivers and the concerns that they have. During events Ryan can be found in the "eye of the storm", making sure that R3 continues it's winning ways. With his depth and knowledge of car handling and set-up, Ryan is the "go-to" guy when a car is not behaving, as a driver wouldlike.
Ryan & Rudy have been competitive in every series they have worked in and that is the cornerstone to the R3 success story
Team Highlights:
-          Winner of the F360 Ferrari Challenge Championship
-          Winner of the F430 Ferrari Challenge Championship
-          Overall 2nd place in the F458 Ferrari challenge Championship
-          Over 40 individual Racing Victories with 52 drivers
-          Established multiple Fastest Lap records
-          Every R3 Motorsports Driver has achieved a podium finish
-          Race wins in North America, South America, Europe and Asia
-          Participated and won races in the 430 GT3 Championship
Please contact Emmanuel Turin for more information at (415) 754-5094 or eturin@ferrarisf.com