From the very beginning of the Ferrari brand in 1947, Clients have played an important role in racing, as well as the development of the road going cars. With this in mind, Ferrari launched the Ferrari Challenge Series in 1993, to give only the most passionate owners an exclusive opportunity to experience Ferrari in its natural habitat: the racing circuit. Ferrari Challenge is a Global Motorsport Championship Series, comprised of Ferrari Owners exclusively; not professional drivers. It is with this spirit of passion and enthusiasm that the Ferrari Challenge North America series is governed.  It is also the best way to experience the racing lifestyle in a secured environment.
In our continent, the Ferrari Challenge is organized by Ferrari North America, through select Franchised Dealers. It is due to this level of support that Ferrari of San Francisco can offer an experience like no other. Those wishing to compete in the Ferrari Challenge series are only allowed to do so by being entered through a select Ferrari Dealer as a team entry. Make no mistake, this is a world class experience, available to a very limited few.
Ferrari Challenge North America is an Amateur Racing Series, spanning the United States and Canada. Just a few of the distinguishing characteristics of the series: Ferrari Challenge has FOUR Series Internationally: North America, Italy, Asia/Pacific and Europe. Ferrari Challenge is ONLY for Ferrari Owners, so each entrant/driver is not only the owner of the car, but the actual participant. This alone makes this a very exclusive opportunity. Each November, all Four Series meet in Italy for the Finali Mondiali, to determine a World Champion!
The Ferrari Challenge race cars are factory built, factory prepared 100% competition race car with video and data acquisition. All of the cars come equipped the same way, in an attempt to level the playing field, but mostly to ensure a safe, quality product. Ferrari North America organizes the events and activities, Ferrari of San Francisco will provide everything you need to arrive, drive, and enjoy the experience of a lifetime. With Ferrari North America standing firmly behind us, we believe that we are able to provide an unparalleled motorsports Esperienza!
For more information on the next Challenge race and VIP Hospitality packages contact Emmanuel Turin (415) 382-4307.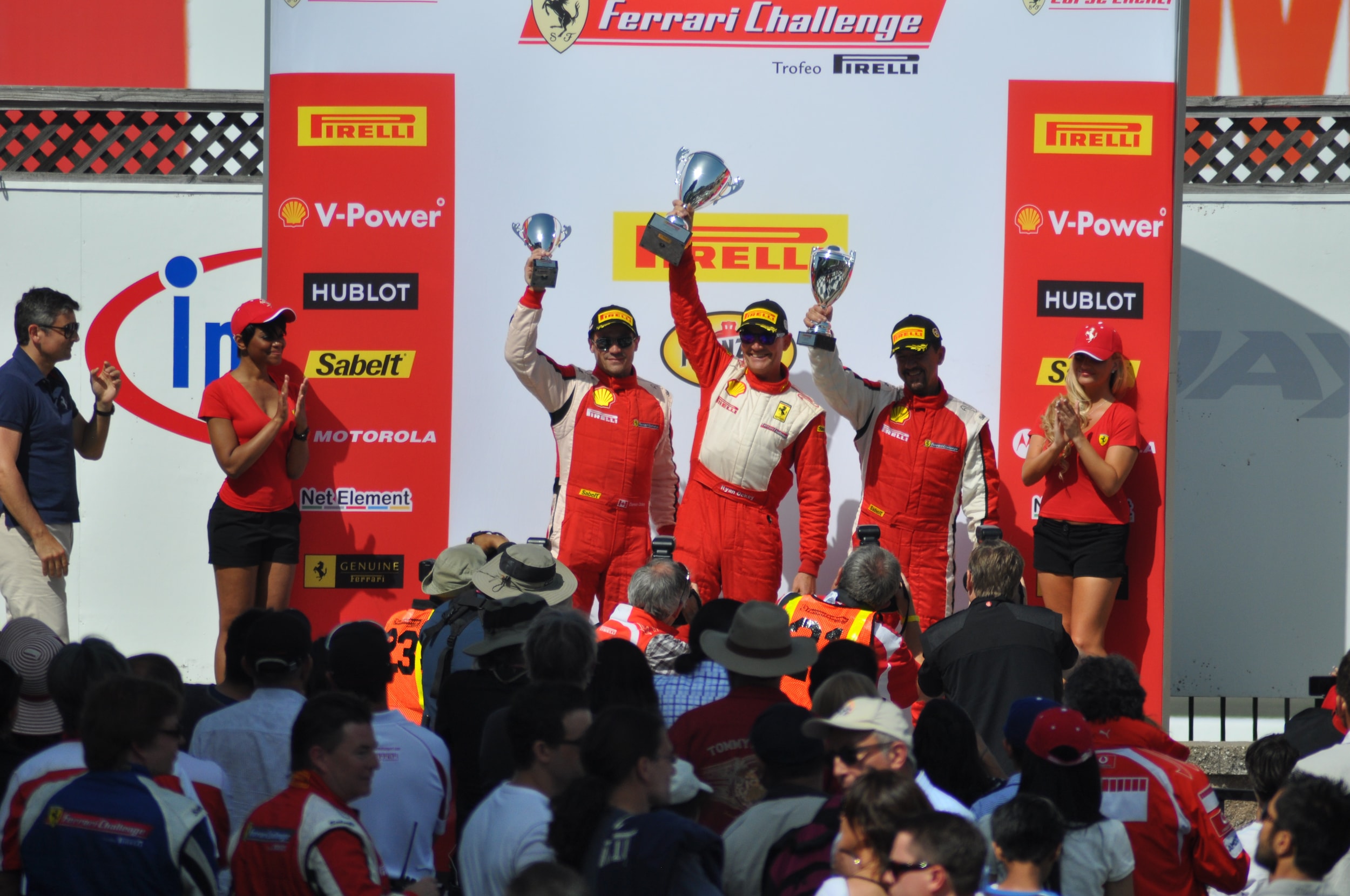 The Ferrari Challenge season officially kicked off January 23rd. The new season will feature 8 races including our home track Sonoma raceway and two Formula One races: Montreal and Austin. 
As in previous challenge seasons, some of the races will feature pretty amazing hospitality packages. Information on the hospitality packages can be found below. Information is already available on select other races, if interested in planning a trip to one of these other great experiences inquire with Emmanuel Turin: eturin@ferrarisf.com or 415-384-4307.

There is no better way to experience Ferrari than through the Ferrari VIP Hospitality packages offered at all Ferrari Challenge and F1 races. Meet the drivers, receive a technical briefing on the 458 GT race car, stand shoulder to shoulder with Scuderia Corsa Ferrari's pit crews and relax in the comfort of Ferrari's hospitality suite.
Ferrari Hospitality Packages Include
Track entry pass good for the entire race weekend
Premium viewing of the track from Ferrari's hospitality suite
Access to Ferrari's hospitality suite a space to relax, dine and enjoy the race with your fellow Ferrari enthusiast 
The opportunity to take your Ferrari on the track for both touring and sports sessions
Ferrari Corral parking directly outside of hospitality for those clients driving their Ferraris to the event
Scuderia Corsa Ferrari GT Team Experience:
- Technical briefing by Ferrari team engineers**
- Meet and greet with Ferrari team drivers**
- Ferrari Exclusive Pit Tours throughout the race**
* Price will vary by race and excludes hotel. **Subject to prevailing race conditions
Please note that all guests wishing to participate in the Pit Tours must wear closed toed shoes and pants or they will not be allowed to participate per IMSA regulations.