Bay Area Ferraris Roar At the Grand Canyon
Marco della Cava
There is little debate that Northern California is a bona fide blessing to Ferrari owners. The regions' endless roads that snake through wine country, by the ocean's edge and up to Lake Tahoe are the stuff of dreams. But for many sports car enthusiasts who call the Bay Area home, these are well trod roads, frequent weekend escapes that are perfect for getting the oil hot and revs up.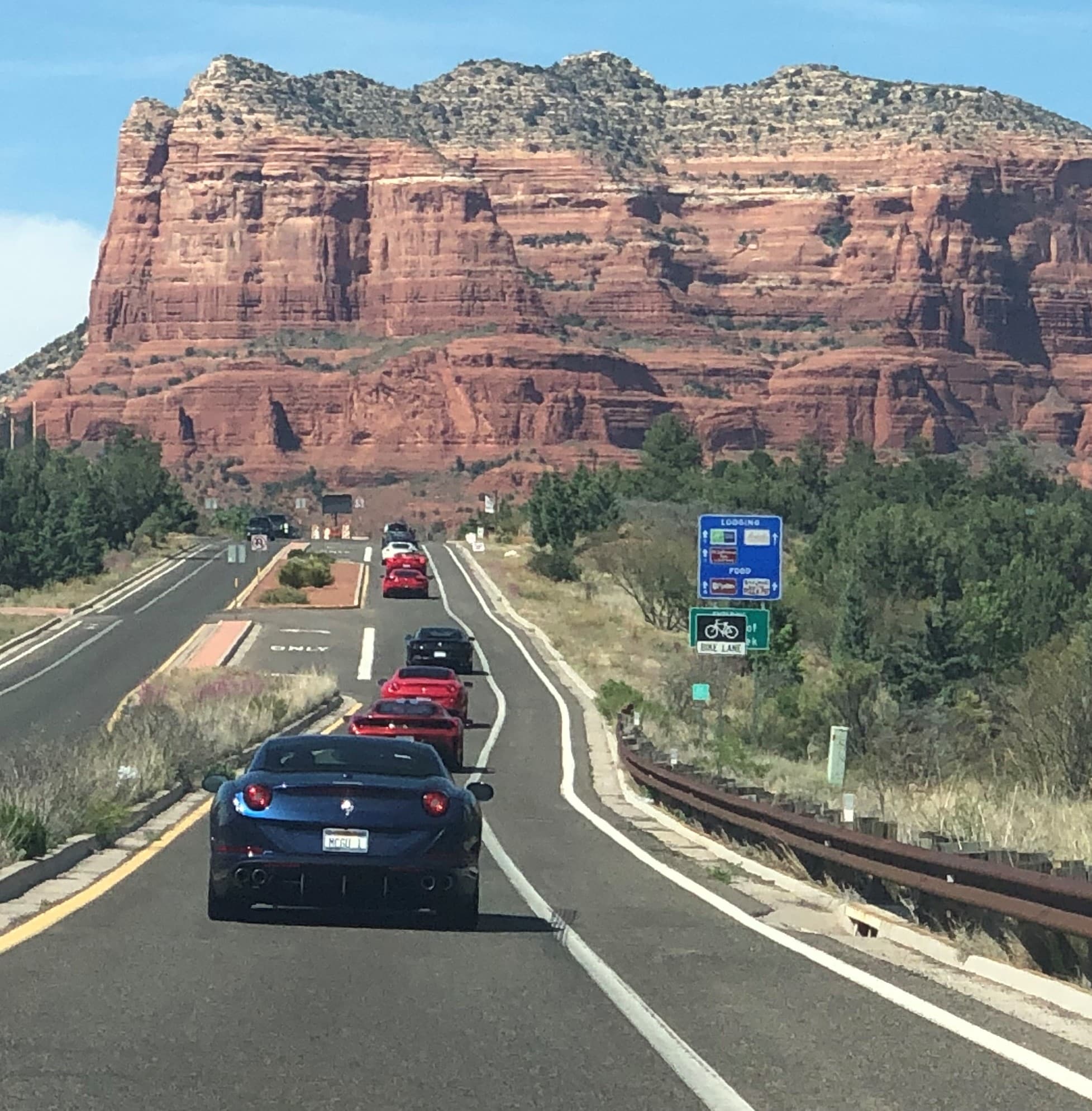 And that's precisely what gave birth to Ferrari of San Francisco's inaugural rally outside of our region. Last spring, more than a dozen Bay Area Ferraristi descended on the spiritual red rock-filled retreat of Sedona, Arizona, for the Grand Canyon Rally, a three-day retreat focusing as much on relaxation as pushing some of Maranello's finest to their legal limits. The rally went down so well that there already are plans for a second such backroad lark in 2020.
"Our clients love their Ferraris, but many of them don't have time to really drive them or when they do they take quick trips around their home area," says Ferrari of San Francisco marketing manager Emmanuel Turin, the mastermind behind the Grand Canyon Rally. "We wanted to offer people something different and unique that also highlights what the Ferrari lifestyle is all about."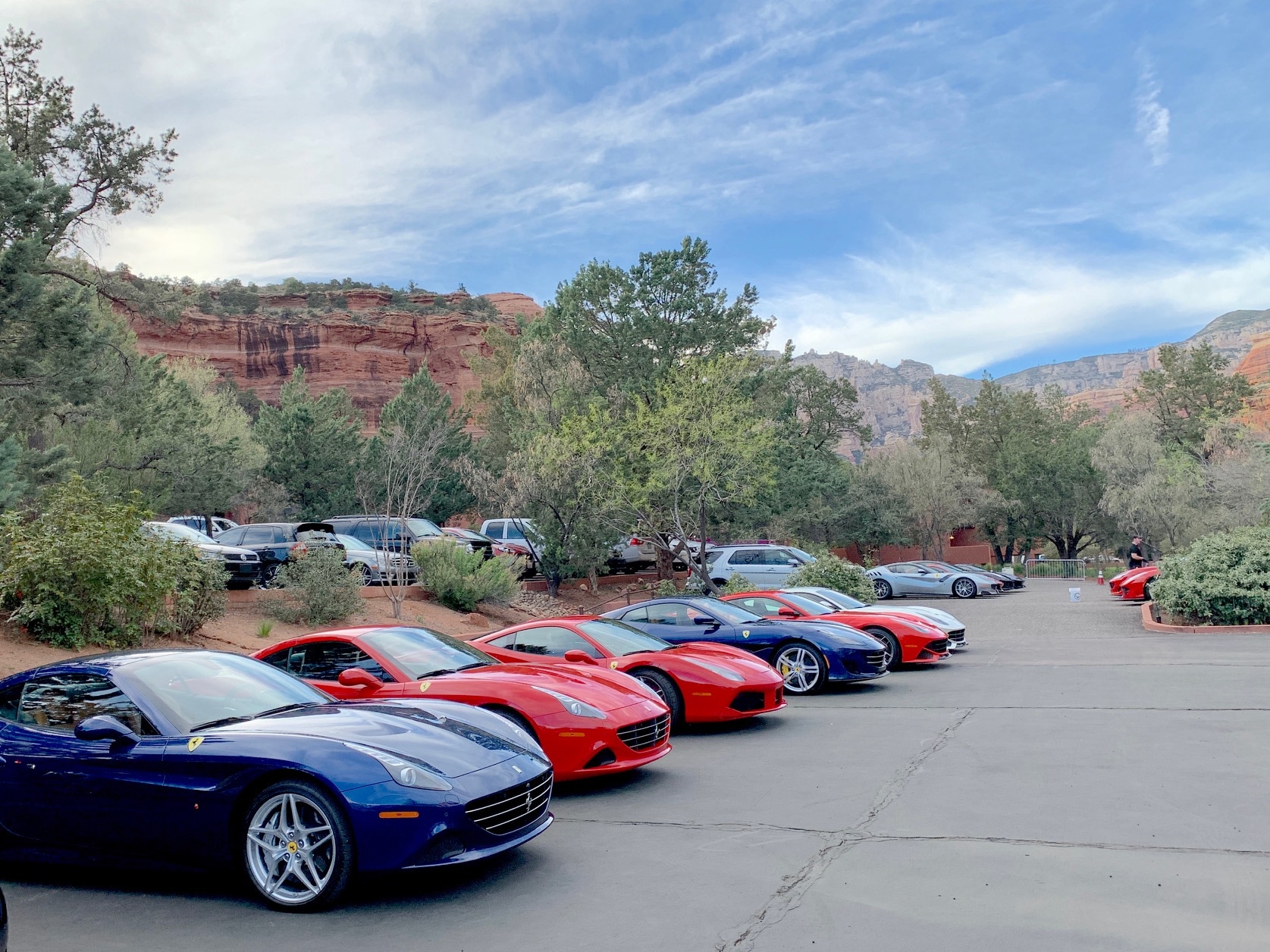 The rally was a truly all-inclusive affair, with the price of admission guaranteeing participants white-glove service from the moment they landed in Arizona. Covered transportation was of course provided for the array of Ferraris brought to the affair, including a pair of 488 Pistas, a few Portofino's, an F12 and other race-ready machinery from across the Ferrari model line. Accommodations were courtesy of Enchantment Resort, whose adobe-style villas are nestled discreetly into Boynton Canyon.
Day one, a Saturday, found guests arriving at the venue in time to exchange greetings and personal Ferrari stories over dinner before embarking the next morning on the first of two days of driving around the area.
"The camaraderie with all these people who share my passion is what made the trip so great, and why I'd love to go on the next rally," says David Szeto, whose career in commercial real estate has granted him a garage that is home to a few Prancing Horses, including a 328 GTS and the 488 Spider he brought to Sedona. The trip was also a special bonding adventure.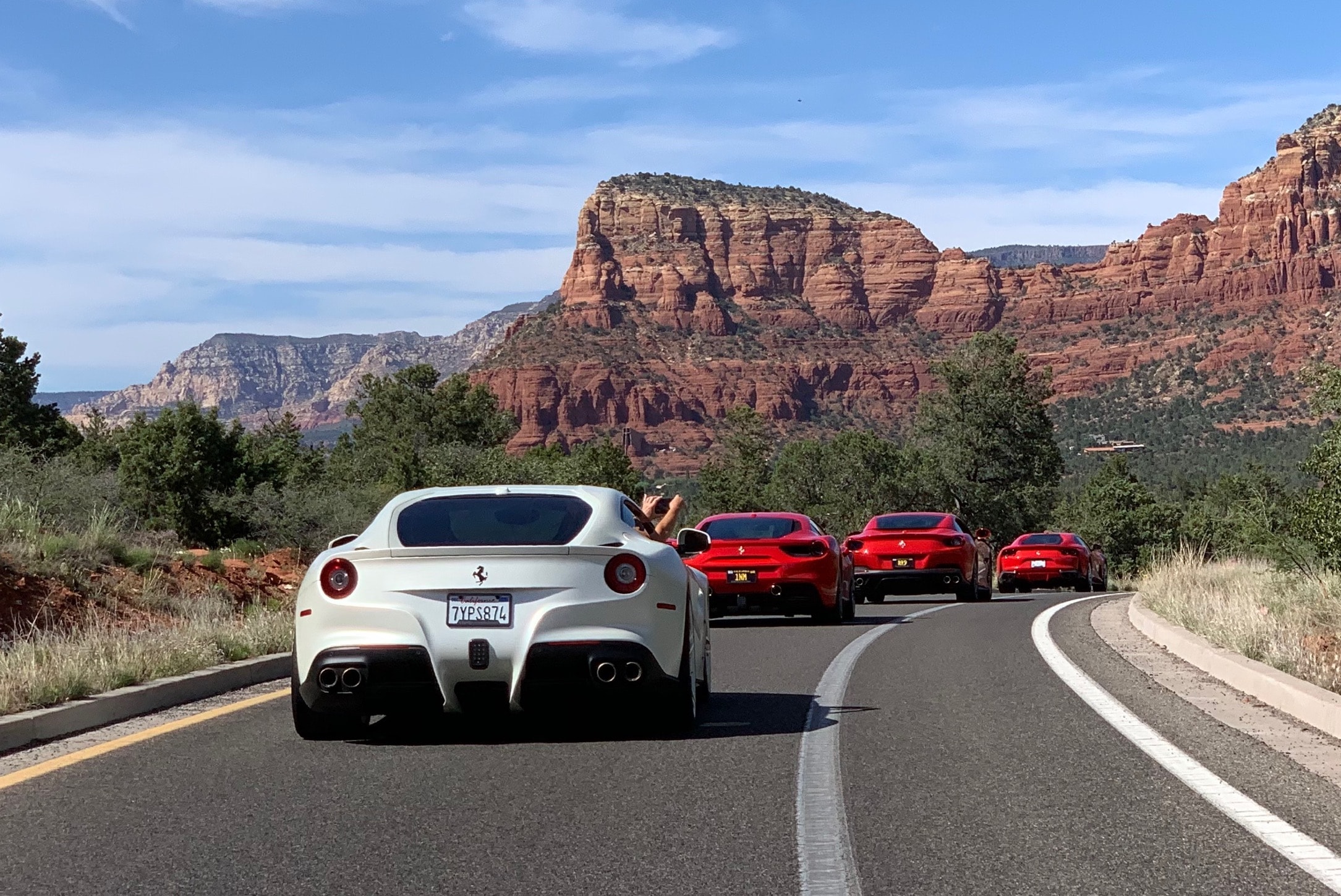 "I try and do as many trips as I can with my daughter, who is 29, and when I asked if she'd join me on this one, she jumped," says Szeto. "My work schedule is pretty packed, so it was nice to just carve out some time to spend with her and go goof off in great cars somewhere new."
Sunday dawned pink and gold as rally participants got ready to follow former pro driver and the rally's leader, Didier Theys, on a range of roads in this particularly stunning corner of the state. "The scenery is what this place is all about, it is just unbelievable," says Theys, who, along with his wife, frequently organizes driving events across the country. He knows this area especially well as a longtime resident of Scottsdale, just outside of Phoenix.
"Mostly, my job is to scout the roads out and find the best places where we can have fun," says Theys, laughing when asked about how fast the group was going. "No comment. But we had a great time, let's just say."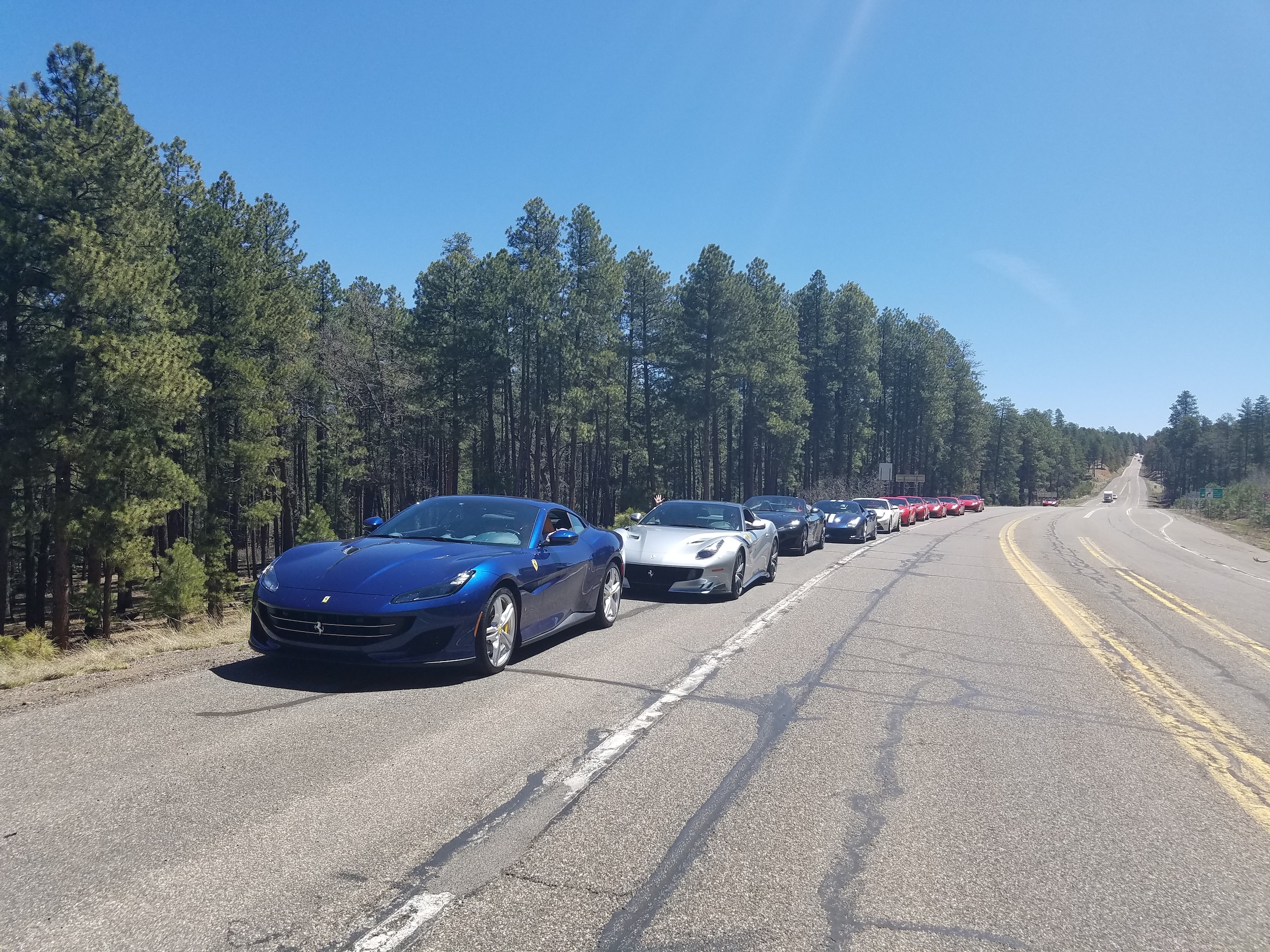 Later that night, the group decamped for the Mariposa restaurant, a South American-inspired eatery featuring dramatic architecture and perched high on a bluff. For Szeto, the highlight was finding a group of like-minded aficionados who completely defied stereotypes.
"Everyone was down to earth and just so passionate about Ferraris, so the conversation flowed freely," he says. "There's this deep passion for the marque, it's a glue that binds us all together. We talked about what cars we had before, what might be next. It was shop talk, and just so fun."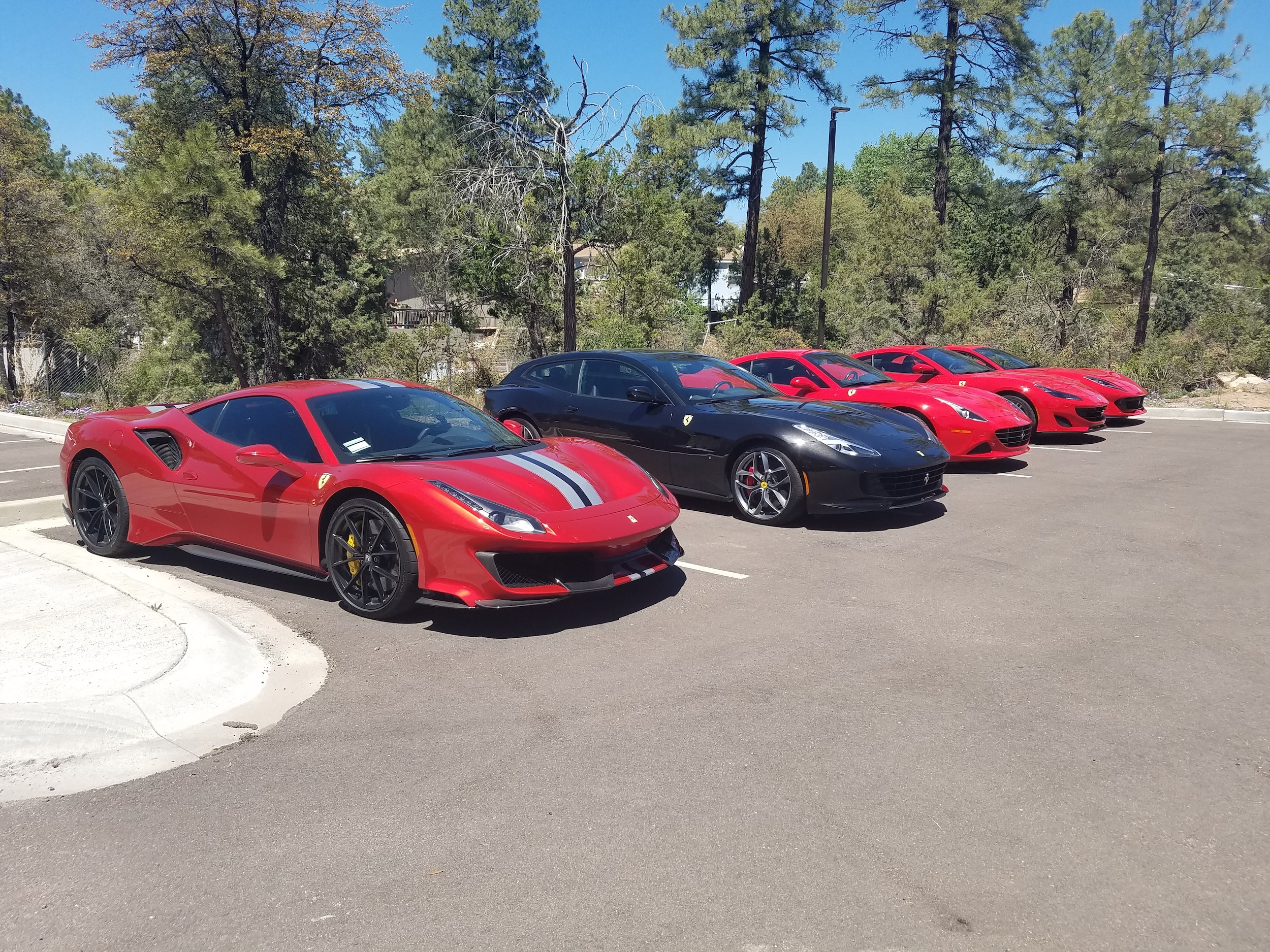 Monday was heavy on driving. For nearly five hours, the Ferrari parade made their way to the epic Grand Canyon. For many of the guests, it was the first time they were taking in this wonder of the world, and the awe was contagious despite a light rain which slightly cut back the typically epic rim-to-rim view.
"Even for those people who had been to the Grand Canyon before, you got the sense this visit was special," says Turin, who joined the group for the journey and is busy working on the next great destination for his Bay Area clients. "You might have seen that canyon when you were a kid, but it's something else to go see it in your Ferrari."